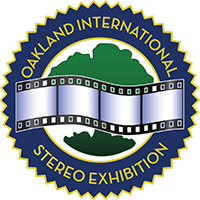 All stereo photographers are invited to enter the annual Oakland International Stereo Exhibition. Digital stereo photos and printed stereo cards are accepted.
Digital entries fall under three divisions. Standard is defined as photography in the traditional sense: images that represent reality. Creative allows for any kind of distorted, manipulated, imaginary, artificially generated imagery. Human Interest involves any activity that people do. Up to four digital stereo images may be entered.
For prints, up to four Holmes stereoscope-compatible stereo cards, 7 inches wide and up to 5 inches tall (17cm wide, up to 13cm tall) may be entered.
The Oakland International Stereo Exhibition is approved by Photographic Society of America (PSA) and will be conducted according to the latest recommended Consolidated Exhibition Standards and Universal Practices. Accepted entries will be credited towards PSA Star Ratings and PSA Who's Who.
Contact Mat Bergman, General Chairman of the Oakland International Stereo Exhibition, for more information.
Important Dates
| | |
| --- | --- |
| Closing date for entries | August 1, 2018 |
| Judging date | August 4, 2018 |
| Report cards emailed | August 18, 2018 |
| Public screening | September 25, 2018 |
| Entries returned, awards and catalogs mailed | September 25, 2018 |
Entry Form and Conditions of Entry
Download the entry form and conditions of entry in either PDF or DOCx (Word) format:
2018 Oakland International Stereo Exhibition Entry Form – PDF
2018 Oakland International Stereo Exhibition Entry Form – DOCx
Awards
Selector's Awards
Individual Selector's Awards (3, any division)
Oakland Exhibition Medal
Digital Entry Awards
Open Section – Best of Show
PSA Gold Medal
Open Section – Next Best
Oakland Exhibition Medal
Human Interest Section – Best in Show
PSA Gold Medal
Creative Section – Best of Show
PSA Gold Medal
Creative Section – Next Best
Oakland Exhibition Medal
Print Entry Awards
Stereo Card – Best of Show
PSA Gold Medal
Stereo Card – Next Best
Oakland Exhibition Medal