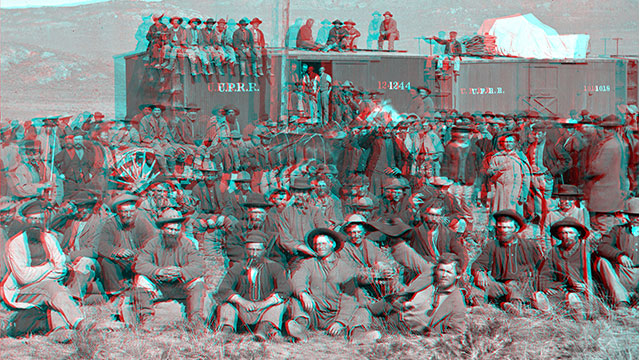 Saturday, November 14, 2020
5:00 pm – 6:30 pm PT, 8:00 pm – 9:30 pm ET
via Zoom – RSVP for link
Cost: Free (donations accepted)
Union Pacific Railroad and Civil War photographer Andrew J. Russell captured hundreds of rare and beautiful stereo (3-D) images of the American west. The Golden Gate Stereoscopic Society presents selections of his remarkable work, based on high resolution glass plate scans curated by the Oakland Museum of California and restored by our members for exhibition.
Our slideshow is presented as both side-by-side stereo pairs and red/cyan anaglyphs, and can also be enjoyed "flat" without a special viewer (red/cyan glasses are recommended, but not required).
RSVP Today!
Our Zoom presentation of Andrew J. Russell and the Westward Expansion in 3-D is free (donations are accepted). Complete this form and the Zoom link will be sent to your email address the day before the event. Information entered on this form will not be sold or shared.
---